2009 EVENT
Held on March 11th 2009.
A new record 42 teams took part, from 18 schools and 2 colleges.
The Task: to design a weather capsule delivered via a space rocket!!
The winning teams were:

Foundation : Garforth School
Intermediate : West Leeds School
Advanced : Guiseley School
Each of these received a trophy to keep and a winner's certificate for the team members.
The "Innovation Trophy" for the team that came up with the most creative, innovative idea, was won by:
The Farnley Park Intermediate team.
The event was also used as part of CPD in Enterprise for teachers for the first time.
The task was to launch a weather capsule -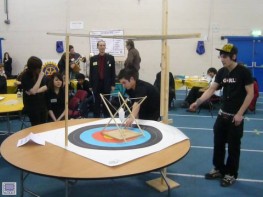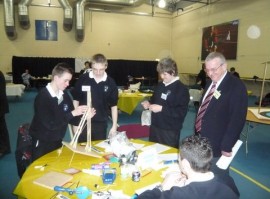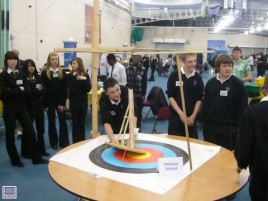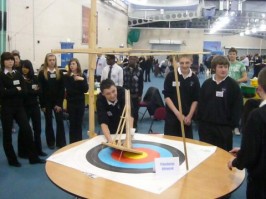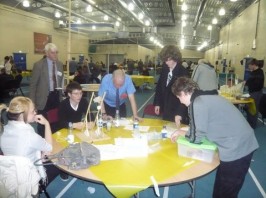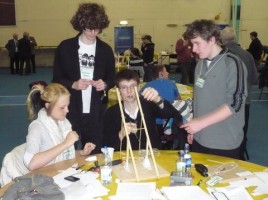 The Foundation Task involved making a launcher, complete with a trigger mechanism that could be fired remotely after a 10 second countdown - so that a space capsule containing weather instruments reached over 3m and landed as close to the launch site as possible.

The Intermediate Task required the capsule to land softly: most entrants made a parachute that opened above 3m.

With the Advanced Task, the capsule was despatched in a carrier vehicle that had to separate at over 3m and land softly, again by parachute.
News events leading up to Competition Day:
January 12th 2009: City councillors show their support. Allocations are being made from the budgets of a number of city councillors in support of community projects in their area.
December 15th 2008: A new initiative has been agreed - all teachers involved in the Technology Challenge event are now able to undertake Continuing Professional Development, overseen by the Education Leeds Education Business Partnership. This will look at how enterprise fits into the technology curriculum. This is a Governmental requirement for all teaching staff. As part of this event, it is hoped to encourage the use of the services of one or more teachers to produce, at a later date, an in-school resource for all schools. This would then be used to enable a wider group of young people to experience a similar challenge in the future.